Once we understand that all dairy production depends upon exploiting the reproductive systems and mothering of other animals, we can make the decision to stop supporting this cruel and greedy industry. And while it can feel overwhelming to think about at first, eliminating dairy from your diet doesn't have to be difficult; in fact, it can be downright delicious! Of course, I'm just one person (on a limited budget), and by no means have I tried all the wonderful non-dairy products on the market. But these are my best recommendations for some remarkable plant-based dairy alternatives that I believe will make your transition to dairy-free easier, happier, and more delicious.
Plant-Based Milks
From the store: It has been my experience (and I have heard this from many people) that almond milk is the plant-based milk that most resembles dairy milk in flavor. For those who really crave the flavor of whole milk from cows, I recommend Almond Breeze Original Almond Milk, and Almond Breeze Almond-Coconut Blend. A long time ago, I dearly loved the taste of whole milk; to me, these two varieties of almond milk are not only creamy and delicious, but uncannily reminiscent of whole dairy milk and are perfect on cereal, in macaroni and cheese, and enjoyed by the glass. As you can see in the photo, though, there are tons of different plant-based milks on the market, including non-GMO soy, cashew, oat, hazelnut and coconut. Try a few and you're bound to find one you love.
Make your own dairy free milk
It's incredibly easy, and in some cases more economical, to make your own plant-based milks. Yum Universe has an amazing guide to making over 20 different creamy, delicious plant-based milks; I've never seen so many different non-dairy milk recipes and tips in one place! Each recipe includes the flavor profile and nutritional benefits of the finished product. I've made the almond, cashew, and hazelnut recipes from this guide and am happy to report that all are delicious. I'm even happier to report that my favorite by far, the toasted hazelnut milk, is also the easiest; no soaking required! An incredibly creamy, snowy-white non-dairy milk can be yours in minutes.
To get an idea of the basic steps involved in making your own non-dairy milks, check out this fun, 90 second tutorial:
My New Roots – How to Make Nut Milk from My New Roots on Vimeo.
Dairy Free Cheese
The most common objection to eliminating dairy that we hear from non-vegans is: I could never give up cheese! And, we get it. Not only is cheese delicious; there's even evidence suggesting that the concentrated opiates found in dairy cheese make it mildly addictive. Thankfully, the biggest obstacle to going dairy free has gotten a whole lot smaller in the last couple of years.
Cheese slices and blocks: If you're looking for mouth-watering cheese that doesn't exploit motherhood and female reproduction, or tear baby animals away from their mums, my number one recommendation is to order a copy of The Non-Dairy Evolution Cookbook. These vegan cheeses are so very dairy-like in taste that they've even fooled non-vegan mechanics at my dad's auto-body shop (I sent him to work with the Harvest Smoked Cheddar and the Spicy Pepper Jack.) They melt, they shred, they slice up as fine as the most fragile leaf of deli fromage. And they take less than 15 minutes to prepare; then simply chill in the fridge for a few hours. Vegan cheese pizza? Check. Vegan mac and cheese? Check. Vegan three cheese lasagna? Check, check check.
If you're looking for something you can grab at the store, there are finally, thankfully, some amazing pre-made vegan cheeses on the market that really do offer the mouth-feel and flavor of dairy cheese; my two favorites by far are Field Roast's Vegan Chao Slices, and Follow Your Heart's block and slice cheeses.
Chao slices (pictured above) currently come in 3 flavors. Don't be put off by the fancy flavor names: The Tomato Cayenne tastes like a mildly spicy (and mouth-watering) cheddar, the Coconut Herb tastes like a Pepper Jack (not coco-nutty at all to my tongue), and the creamy original tastes like a creamy mozzarella or provolone. Follow Your Heart offers several flavors of block and slice cheeses, including American, provolone, mozzarella, garden herb, and cheddar. I have only had the garden herb block and the provolone slices but these were equally delicious to the Chao cheeses; the provolone could easily be mistaken for good dairy cheese according to even the non-vegan members of my family.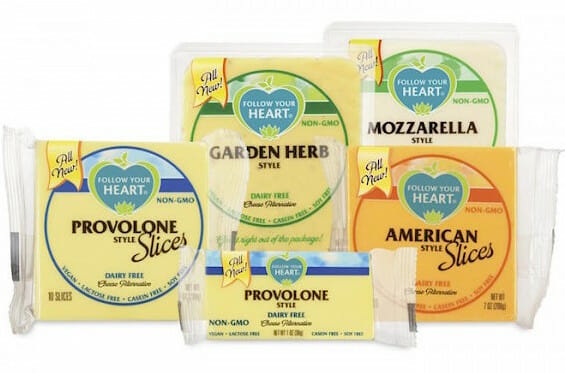 Slices from both brands are so good you can eat them straight out of the package, on crackers or sandwiches, or melted on a veggie burger or quesadilla. Both brands can be found at many natural foods stores like Whole Foods, Earth Fare, and your local co-op, but many chain grocery stores will also special order them for you if you make a request.
Shreds: I haven't yet found any pre-packaged shreds that I love. Most people I know prefer Daiya shreds when they need grated cheese. They do melt well and the flavor is decent, but personally if I'm making a pizza I would rather just pile some veggies on top of a savory olive oil and garlic base than use Daiya shreds. Same goes for Follow Your Heart: their slice and block cheeses are wonderful but their shreds just aren't there yet. The best vegan cheese pizza I have had is one I make at home with Trader Joe's pizza crust and pizza sauce, covered in a layer of home-made muenster, mozzarella, or pepper jack from The Non-Dairy Evolution Cookbook. These cheeses can be grated and they melt wonderfully.
There are several specialty vegan cheeses on the market that I still look forward to trying: Kite Hill (available at select Whole Foods), Treeline Tree Nut Cheese, Punk Rawk Labs Nut Milk Cheeses, and Miyoko Schinner's Artisan Vegan Cheeses, to name a few.
But if you're a die-hard dairy junkie, get the Field Roast Vegan Chao slices or try making the The Non-Dairy Evolution cheeses (start with the Muenster or Pepper Jack!). The cookbook also contains incredible recipes for non-dairy milks, butter, sour cream, cream cheese, coffee creamer, whipped cream, ice cream, yogurt and more. See our full photo gallery feature on The Non-Dairy Evolution Cookbook, here.
Dairy Free Butter
Plant-based butters have been perfected to the point of tasting indistinguishable from dairy butter. Earth Balance Natural Buttery Spread is widely available in stores, tastes amazing, and functions just like dairy butter in baking. The brand offers soy-free butter sticks and a coconut-based buttery spread as well. For now, Earth Balance still uses palm oil, an ingredient about which there is increasing and legitimate concern. Their website states that they are committed to "using only responsible and sustainable sources of palm oil," but for those who are concerned with the verifiability of this claim, there are excellent recipes for making your own palm oil-free butter, including this popular one from veganbaking.net. The Non-Dairy Evolution also includes a recipe for Better Butter that tastes superb and is palm oil-free.
Dairy Free Creams
Coffee Creamer: Hands down, the most delicious and half-and-half-like vegan coffee creamer I have tried is Trader Joe's Soy Milk Creamer, which is made with organic, non-GMO soybeans. Elsewhere, in an internet forum on vegan coffee creamers, consensus is nearly unanimous in favor of Wildwood Original Soy Creamer (also organic, non-GMO). And there are several yummy flavors of vegan coffee creamer by So Delicious and Silk in many large chain grocery stores. Additionally, many people swear by home-made cashew coffee creamer: Soak 1 cup raw cashews in water (2 hours minimum). Combine drained cashews, 2 cups water, 2-4 pitted dates and 1 Tbsp. vanilla in a blender until smooth. Add more water if a thinner consistency is desired. Store in a glass jar in the fridge for 2-3 days.
Traveling? Don't be fooled by those individual creamers labeled "non-dairy" in gas stations; they've got milk ingredients in them. Pop a nutpods or other plant-based creamer in a freezer bag to take with you.
Dairy Free Whipped Cream
You can make your own phenomenally fluffy, two ingredient whipped cream from coconut milk and confectioner's sugar, or a whipped cashew cream that's almost as easy. This decadent cashew cream recipe from Magic Jelly (pictured above) is slightly more involved but absolutely divine and worth every step. It's the best vegan whipped cream I've had.
Sour Cream: Tofutti brand sour cream is widely available in stores and because I like the taste so much, it's the only vegan sour cream I've ever tried. The consistency and mouth-feel are nearly identical to dairy sour cream. I love a dollop on burritos, a baked potato, and in hot veggie soups. Update: Follow Your Heart vegan sour cream is also good— hooray!— but Tofutti is still the front-runner for me.
The Non-Dairy Evolution Cookbook also contains a recipe for an amazing vegan sour cream.
Dairy Free Cream Cheese: 
Again, for store bought options, Tofutti wins for taste. I'm not arguing that these are the healthiest non-dairy alternatives you can find, I'm simply speaking for flavor. Tofutti cream cheese, to my tongue, tastes nearly identical to dairy cream cheese. Follow Your Heart is again my second-place pick. You can also make your own delicious cream cheese with The Non-Dairy Evolution Cookbook, or try an online recipe: here's one for an easy cashew-based cream cheese.
Dairy Free Ice Cream
In the store: There's a huge selection of truly delectable non-dairy ice creams on the market that are every bit as rich, creamy and indulgent as dairy ice cream; far too many for me to have tried them all. I can personally attest to the extreme deliciousness of Coconut Bliss (all flavors), Nada Moo (absolutely divine), Almond Dream (the plain chocolate is heavenly and could have fooled me for dairy ice cream), and So Delicious Dairy-Free, which offers soy milk based, almond milk based, and coconut milk based ice creams (I adore the Turtle Trails and the Pomegranate Chip). I've also heard great things about Temptation Vegan ice Cream.
Make your own: There are entire blogs and books devoted to the wonders of home-made vegan ice cream, but most of the recipes call for an ice cream maker. One day I will have one of those, but thanks to the culinary genius of The Vegan 8, you and I both can make incredibly dairy-like, creamy vegan ice cream without a machine. This 4 ingredient, no-ice-cream-maker-needed, milk chocolate ice cream recipe (see photo) will change your life. Before I made it, I thought it sounded too good (and too wacky!) to be true. Sweet potato + canned lite coconut milk + chocolate chips + vanilla extract is going to taste like dairy chocolate ice cream? Eek. No way.
Except: it does. I made it. And ate it. And couldn't believe it. No weird consistency, not even a hint of sweet potato or coconut flavor. Not only does it taste like a dairy milk chocolate ice cream, it tastes like an expensive dairy milk chocolate ice cream.
Bake your sweet potato (or microwave it to save more time), peel, mash and throw in with other ingredients in a blender, then freeze in a stainless steel pot or other suitable container for 2 or more hours (stirring according to instructions), and you will have the creamiest, most perfect milk-chocolatey ice cream ever. This is true culinary brilliance. Make it and share with your non-vegan friends! See recipe for more specific instructions.
Also check out these mouthwatering roundups: 29 Amazing Vegan Ice Cream Recipes, and Vegan Ice Cream Party: 25 Flavors.
Dairy Free Yogurt
There are quite a few brands of vegan yogurt on the market. Many stores carry delicious cultured soy, almond, or coconut-based yogurts, including brands like So Delicious Dairy Free; Silk; Whole Soy; Almond Dream; Amande; and Trader Joe's. As for Greek yogurt, I went vegan before it was so popular, and have never had it, but I know a lot of people who are diehard fans. In fact, when I searched "vegan Greek yogurt" online, this comment came up: "The only major thing standing between me and veganism is Greek yogurt!" Thankfully, Greek yogurt loving fans can find So Delicious Dairy Free Cultured Coconut Greek Style Yogurt and Cultured Almond Milk Greek Style Yogurt in select stores, and they can make their own fluffy Greek-style at home (see The Non-Dairy Evolution Cookbook.) For reviews of the various in store varieties of vegan yogurt, be sure to check out this great guide.
The products featured in this article are mostly U.S. brands. If you are struggling to eliminate dairy and cannot find helpful alternatives for one or more of the dairy foods in your diet, I recommend ordering a copy of The Non-Dairy Evolution Cookbook, which contains recipes for delicious plant-based versions of all of the dairy foods mentioned here, as well as tons of desserts and veganized egg dishes.
To learn more about the many cruelties of dairy, please visit our feature, 10 Dairy Facts the Industry Doesn't Want You to Know.