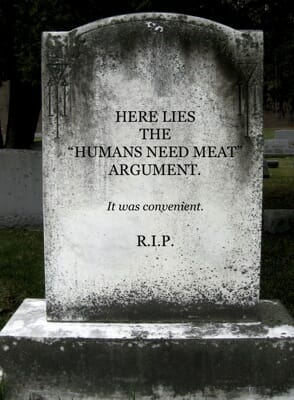 In the recently revised Australian Dietary Guidelines (p. 35), Australia's top health experts now agree with leading health advisory boards in the U.S., U.K. and Canada that well-planned vegan diets are a safe, healthy and viable option for all age groups. Government health experts worldwide are finally catching up with the large body of scientific evidence demonstrating that a vegan diet is not only a viable option for people of any age, but that eating plant foods instead of animal-based foods can confer significant health benefits, including reduction in incidence of obesity, diabetes, high blood pressure, high cholesterol, heart attack, stroke, and some types of cancer.
In 2009, the American Academy of Nutrition & Dietetics, the U.S.'s oldest, largest and foremost authority on diet and nutrition, also recognized that humans have no inherent biological or nutritional need for animal products: "It is the position of the American Dietetic Association that appropriately planned vegetarian diets, including total vegetarian or vegan diets, are healthful, nutritionally adequate, and may provide health benefits in the prevention and treatment of certain diseases. Well-planned vegetarian diets are appropriate for individuals during all stages of the life cycle, including pregnancy, lactation, infancy, childhood, and adolescence, and for athletes." 
In 2013, leading U.S. health care provider Kaiser Permanente, with more than 9 million health insurance subscribers, published an article in its medical science journal recommending that physicians consider recommending a plant-based diet for all their patients. The article notes, "Healthy eating may be best achieved with a plant-based diet, which we define as a regimen that encourages whole, plant-based foods and discourages meats, dairy products, and eggs as well as all refined and processed foods … Physicians should consider recommending a plant-based diet to all their patients, especially those with high blood pressure, diabetes, cardiovascular disease, or obesity."
In 2015, 22 scientists from the World Health Organization (WHO)'s International Agency for Research on Cancer (IARC) evaluated over 800 medical studies and concluded that consumption of processed meat is "carcinogenic to humans," and that consumption of red meat is "probably carcinogenic to humans." Their conclusions were based on overwhelming evidence for positive associations between meat and colorectal cancer, as well as positive associations between processed meat consumption and stomach cancer, and between red meat consumption and pancreatic and prostate cancer.
And in 2016, a major study conducted by Oxford University researchers modeled four different global dietary scenarios and found that by 2050, widespread adoption of plant-based diets could avert 8.1 million premature human deaths every year. The study was the first to estimate both the health and climate impacts of a shift toward more plant-based diets for all major world regions, and also concluded that global adoption of such a diet would reduce greenhouse gas emissions by two thirds, and lead to healthcare-related savings and avoided climate damages of $1.5 trillion (US).
But What About People Who Say They 'Tried Vegan' and 'Just Need' Animal Products?

While the idea that some people "just need meat or animal protein" sells plenty of books (Blood Type Diet, anyone?) and caters to entrenched palate preferences, nutritional requirements— in terms of the actual nutrients needed— are not variable within species. Each species has its own specific nutritional requirements, and all members of each species require the exact same nutrients. Therefore the idea that some people "just need meat" or "just need eggs" or "just need a little wild-caught fish" is scientifically inaccurate. As nutritional epidemiologist Micaela Karlsen observes in her article, Do Different People Need Radically Different Diets?—
"Human beings are one species; we are all the same animal, with the same digestive physiology. And, as is true of all species, we do not require personalized nutritional programs unless we are dealing with a specific disease or some other very unusual condition… Where nutrition is concerned, it's helpful to ask yourself, "Where in nature can I find an example of this?" And in this example of a very wide variation of nutrient intake, the answer is "nowhere." In other words, you'll be hard pressed to stumble upon horses that do better with some meat in their diet because of their blood type, or bears that need twice the protein intake of other bears… Our species has specific nutritional requirements, and we can meet them by eating whole plant foods in sufficient quantity to maintain healthy body weight, just as other animals do, in their natural environments."
So where does this idea that nutrient needs are subjective or even "intuitive" come from? In The Myth of Bio-Individuality, nutritionist Carla Golden writes: "In my opinion, Bio-Individuality is a euphemism for permissive omnivorism. It is a fancy term that permits people to believe that some people need to eat animal-based consumables (meat, dairy, eggs, honey) while other people may not." But in reality, "There is absolutely no nutrient in animal flesh and fluids that humans can't get from where the animal got it: the sun and the earth. If you don't want to eat dirt like animals do, you can take a B12 supplement."
She continues:
"On average, biochemically all humans are 99.5% similar to any other humans… When born into and living in a state of health, we are very similar to one another in our nutritional needs. It is only when the body is in a state of disease that we need personalized nutrition. But this doesn't mean that some people will need to eat the uppermost leaves from the tallest trees, that some people will need to scour the bottom of river beds, and that others will need to pick away at rotting carcasses. Even in a state of disease, the realm of natural food choices are the same, just some specific foods may need to be limited or omitted."
While a well-balanced plant-based diet can easily provide all of the nutrients we need to thrive, that doesn't mean that all vegans are healthy by default. Just as people who eat meat, dairy and eggs often suffer from nutrient deficiencies, a poorly planned or junk-food vegan diet can also fail to meet nutritional needs, leading to health problems. Total raw food diets and diets composed of only very-low-fat foods can also make it harder for some people to get all the necessary nutrients. But with the rare exception of someone who suffers from multiple serious plant-food allergies, or a genetic inability to biochemically digest or synthesize certain nutrients, science now recognizes that a healthy vegan diet is a safe option for everyone, and research increasingly points to a whole foods plant-based diet as optimal.
So what about those ex-vegans? Although some former vegans will have experienced poor health as a result of an imbalanced diet (and these can be corrected without re-incorporating animal products), it is often the case that ex-vegans were simply struggling with difficult cravings. And while cravings— and the discomfort they produce— are very real, it's important to recognize that a craving is not a need. As much as it may feel like we are actually suffering from a life-threatening cheese deficiency, we know that withdrawal from highly pleasurable or addictive sensations can produce a multitude of physiological responses, including feelings of depression, fatigue and deprivation. We also know that cheese cravings aren't indicative of an actual biological need, because cow's milk is made for baby cows, and the mothers' milk of all species is very specifically baby food.
It's also true that, just like meat-eaters, some vegans will struggle more than others to stay healthy. While all humans require the exact same nutrients, the amount of nutrients needed can vary depending on activity level, age, gender and other factors. As Ginny Messina, R.D., observes: "Some people may need to work a little bit harder to obtain everything they need. And some vegans are not getting enough of what they need because they are eating diets that are too restrictive and/or they are not taking appropriate supplements. My initial recommendations for someone who is craving meat or dairy are these:
Add umami to your diet.

Eat more concentrated sources of protein—soy, seitan and beans.

Add some healthy fats to your meals—nuts, avocado, and foods cooked in small amounts of vegetable oils.

Check your diet against the food guide and supplement recommendations from Vegan for Life."
Most health objections to veganism are easily laid to rest with a few science-based observations. This is not to say that there aren't people who, due to socio-economic or geographical reasons, have little choice but to eat animals or animal products, whether they live in an urban food desert, or a more remote part of the world where little edible vegetation naturally occurs. But as Jo Tyler writes in Does One Person's Need Excuse Another's Greed?: 
"If we are fortunate enough to be able to live without causing violence and harm to others, shouldn't we do so… and do so with gratitude?"
---
Got a question about specific nutrients or on planning a plant-based diet? Check out the article Vegan Diets: Sorting Through the Myths
Veganism isn't just a diet. It's a way of life that seeks to reduce harm to animals, the environment, and other humans. See our Why Vegan? page to learn more.
Visit Physicians Committee for Responsible Medicine and veganhealth.org for more information on healthy eating.