I don't talk a lot about how I struggled to give up cheese when I went vegan years ago; I don't want people to think that living dairy-free is so difficult that they put it off or, worse, never even try. For many people, ditching dairy is only moderately difficult; for others, it isn't hard at all. But for some it's a real obstacle; one of the most consistent objections to veganism I encounter is "I could never live without cheese!"
But the truth is that while we joke about dying without dairy products, millions of cows and calves are killed each year in the name of dairy production, with calves cruelly torn from their mothers at birth even on small, so-called humane dairy farms. So even though I've gotten to a place in my life where I don't miss cheese anymore, I'm constantly on the lookout for new vegan cheese products to try, in the hopes of finding one or more that would satisfy even hardcore cheese lovers.
For store-bought vegan cheeses in the U.S., Follow Your Heart has totally nailed it. Their blocks and slices are incredible in every flavor they come in, and ever dairy-lover in my life who has tried them agrees. They're so good you'll eat them cold out of the package, but they also melt great on sandwiches and in quesadillas. (Their packaged shreds, on the other hand, aren't there yet for me.) Chao Vegan Slices are a close second, also available in stores.
But for those who don't mind a few minutes in the kitchen, far and away the most delicious and dairy-like vegan cheeses I've had are those made from recipes in the absolutely genius cookbook, The Non-Dairy Evolution. Written by esteemed vegan chef Skye-Michael Conroy, The Non-Dairy Evolution contains over 80 delicious recipes for plant-based cheeses, butters, milks and creams, including cultured cheeses, buttermilk, and sour cream; block and wheel cheeses that shred and melt beautifully; egg alternatives and eggless egg dishes; and scrumptious non-dairy desserts.
These recipes are easy to follow and extremely user-friendly; many of the block cheeses, including Cheddar, Mozzarella, Provolone, Brie, Havarti, and Muenster— take less than 15 minutes to make, with only 8 or 9 ingredients involved (they then refrigerate for a few hours). But best of all is the taste. Not only are these cheeses reminiscent of dairy cheese; some of them, like the mozzarella, muenster, and pepper jack, taste so much like their dairy counterparts that I would have a hard time believing they weren't actually dairy, if I hadn't made them myself. Peruse the images below for more information, mouthwatering images, and two exclusive cheese recipes from The Non-Dairy Evolution Cookbook. Scroll down for Frequently Asked Questions about the cheese ingredients, and for ordering information.
Vegan Mozzarella
The Firm Mozzarella was the first cheese I made from The Non-Dairy Evolution Cookbook. When I first read the recipe, I thought, no way these ingredients and flavors are going to come together to taste like mozzarella cheese. I couldn't have been more wrong. Not only does this cheese have the same texture and mouth-feel of dairy mozzarella; the taste is so reminiscent of a fine mozzarella that if I hadn't made it myself, I would have been worried I was eating dairy cheese. All of the block (or wheel) cheeses in The Non-Dairy Formulary can be sliced just as fine as dairy cheese, and also shred and melt beautifully. You can make perfect wheels simply by letting the cheese mixture chill and set in a flat-bottomed glass or ceramic bowl.
Harvest Smoked Cheddar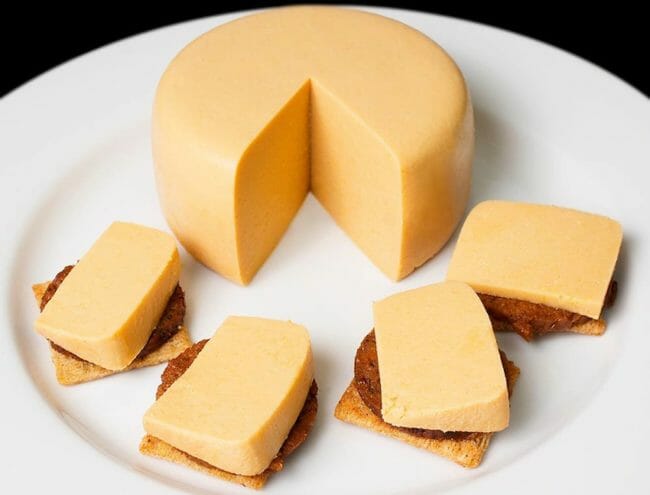 The Non-Dairy Evolution Cookbook's Harvest Smoked Cheddar is a firm cheese with a golden color, mild acidity and rich smoky flavor. Thin slices are ideal for cold sandwiches or for melting on burgers or other grilled sandwiches. This cheese can also be finely shredded and used in your favorite recipes. I have made this one several times and it's remarkably similar to dairy cheddar.
Pepper Jack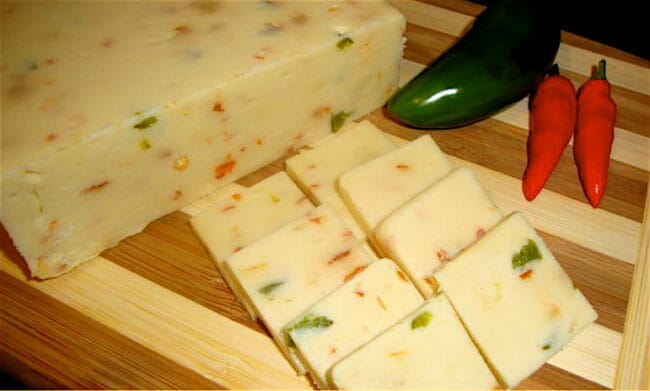 I made wheels of The Non-Dairy Evolution Cookbook's vegan Mozzarella, Harvest Cheddar, and this phenomenal Zesty Pepper Jack for my Dad when I was visiting my folks recently. He loved them so much that on several occasions I caught him just standing around in the kitchen eating slices, and he also took them to work and shared them with his employees at the car dealership. One of the mechanics, not a vegan, kept coming by his office saying, "Maybe I could get just one more slice of that Pepper Jack…"
Not only are these the best vegan cheeses I've ever had, but the ease of preparation is worth reiterating: most of these cheeses require only a handful of ingredients and take me less than 15 minutes to prepare (then they chill for a few hours to set).
Muenster
The vegan Muenster is tied with the Pepper Jack for my favorite vegan cheese (so far) in The Non-Dairy Evolution Cookbook. It's a semi-firm cheese with a mild, delicious buttery flavor very reminiscent of dairy muenster. Slices are ideal for cold sandwiches, crackers, and for melting on burgers or other hot sandwiches. I made some incredible grilled cheese sandwiches with this one.
White Cheddar Amandine
The White Cheddar Amandine from The Non-Dairy Evolution Cookbook is a creamy, cultured sharp vegan cheddar log rolled in toasted almonds. Pair with pita chips or crackers for a truly delectable snack.
Alpine Swiss
The Non-Dairy Evolution Cookbook's Alpine Swiss is a firm cheese with a mild, nutty flavor that is very reminiscent of dairy Swiss cheese. It can be thinly sliced and served on cold sandwiches, grilled and melted on hot sandwiches or shredded and used in recipes.
Brie
Like its dairy counterpart, vegan Brie is a soft, spreadable table cheese with a rich, buttery flavor. Vegan Camembert is very similar but with deeper, earthy undertones. Both cheeses are excellent served at room temperature with fresh fruit, crackers or fine breads. They can also be baked in a puff pastry. Find all three recipes in The Non-Dairy Evolution Cookbook.
Extra Sharp White Cheddar
Crumbly Extra-Sharp White Cheddar from The Non-Dairy Evolution Cookbook. For those looking for a delicious vegan cheddar that is not soy-based, this cashew-based recipe produces a semi-firm, cultured cheese with a crumbly texture and extra-sharp cheddar flavor that continues to develop and intensify as it ages. But unlike dairy cheddar, the flavor and texture develops in days, not months. This cheese is sure to please the most discerning sharp cheddar connoisseur.
Golden Cheddar Sauce: Free Recipe!
We're pleased to be able to feature this exclusive recipe from The Non-Dairy Evolution Cookbook. This velvety vegan Golden Cheese Sauce has a delicious cheddar flavor that is perfect for macaroni and cheese, nachos, cheesy rice, or poured over freshly steamed vegetables or baked potatoes. This recipe yields about 2 cups of sauce.
Ingredients:
•1 and ¾ cup plain unsweetened soymilk with no additives
•5 T tapioca flour
•¼ cup vegetable oil
•¼ cup nutritional yeast
•1 T mellow white miso paste
•1 tsp organic tomato paste (for a richer golden color, increase by one teaspoon)
•1 tsp dry ground mustard
•¾ tsp sea salt or kosher salt
•½ tsp onion powder
•¼ tsp ground white pepper
Technique: Process the ingredients in a blender until smooth. Please note that the light golden color will develop as the cheese cooks. Transfer to a medium saucepan and cook the mixture over medium-low heat, stirring slowly and continually with a silicone/rubber spatula.
As the mixture begins to form curds, stir vigorously, scraping the sides and bottom of the saucepan with the spatula as you stir. Keep stirring until the mixture becomes bubbly, smooth and glossy.
Taste and add salt as desired and/or additional soymilk to lighten the consistency to your preference. Reduce the heat to low to keep warm until ready to serve. Stir occasionally. The sauce will thicken upon cooling.
Garlic Herb Gournay: Free Recipe!
Vegan Garlic Herb Gournay is a garlicky, semi-soft cheese that makes a flavorful spread for crackers or crusty bread. The texture is similar to Boursin™, a trademarked brand of Gournay cheese. A food processor is recommended for efficient processing. This recipe yields about 8 oz.
Ingredients:
•½ block (7 oz.) extra-firm water-packed tofu (do not use silken tofu)
•3 T organic refined coconut oil
•2 T fresh lemon juice
•3 cloves garlic, chopped
•2 tsp raw apple cider vinegar
•2 tsp dried parsley
•2 tsp dried minced chives
•1 tsp dried basil
•1 tsp fine sea salt or kosher salt
•1 tsp onion powder
•½ tsp coarse ground black pepper
•¼ tsp dried thyme leaves
Technique: Drain and press the tofu until it is not releasing any more liquid. Crumble the tofu into a food processor.
Remove the metal lid from the jar of coconut oil and place the jar in a microwave. Heat just until the solid oil liquefies, about 30 seconds to 1 minute (this will depend upon the solidity of the coconut oil). Alternately, you can place the jar in about an inch of simmering water and melt the oil in the same manner. Measure 3 tablespoons and add to the food processor with the remaining ingredients. Process the contents until very smooth.
Transfer the mixture to a container with a lid. Cover and refrigerate for a minimum of 6 hours to allow the flavors to blend. If desired, transfer the cheese to a decorative container and allow the cheese to soften for about 15 minutes at room temperature before serving.
---
The previous are just a few of the many cheeses featured in the cookbook, which also includes recipes for delicious cheese-based cuisines including quiches, quesadillas, pizza, macaroni and cheese, dessert cheeses, and more.

---
Frequently Asked Questions about Vegan Cheese
Questions sometimes arise about two of the main ingredients in The Non-Dairy Evolution's sliceable block cheeses (which include the Cheddars, Mozzarella, Provolone, Muenster, Jack, Swiss and Havarti.)
These cheeses can be made using soy milk, almond milk, or cashew milk, and also use an ingredient called carrageenan, a thickening agent derived from seaweed that is used in many foods (including many dairy cheeses and other dairy products). While almond milk and cashew milk can be used successfully for people with soy allergies, Chef Conroy recommends soy milk for best results. He writes:
The Block and Wheel Cheeses are created through a process known as emulsification. Simply stated, emulsification is the process where two or more ingredients that wouldn't normally mix together, such as oil and non-dairy milk, are blended together into a homogenous mixture.
The cheeses were formulated using pure soymilk, therefore pure soymilk is recommended for achieving the best results. Homemade almond milk, when prepared according to the recipe in this cookbook, can also be used successfully for preparing the cheeses.
Homemade raw cashew milk can potentially be used as an alternate to soymilk or almond milk; however due to the composition of raw cashew milk, heat and stirring alone will not successfully emulsify the milk with the oil and an immersion blender is required to force emulsification while the cheese is being cooked. This can be a little tricky until you have become proficient at preparing the cheeses using soymilk or almond milk. Due to their watery consistency and abundance of additives, commercial nut milks, rice milk, oat milk, hemp milk and coconut milk beverage are not recommended for preparing the cheeses.
There is, in my opinion, a lot of unwarranted fear-mongering around soy milk these days, and carrageenan has also been in the "scary foods" spotlight. I contacted Virginia Messina, one of the most respected dietitians and vegan nutritionists in the country, in large part because her claims about vegan nutrition always err on the conservative and cautious side; they're also backed up by extensive research.
Messina had this to say in response to my questions about carrageenan:
"As far as I know, all of the studies on health effects of carrageenan have been in animals—mostly rats—so I don't think they tell us too much about effects in humans. It's very often the case that large amounts of a substance fed to animals produce problems that never occur in humans who are consuming more normal amounts of that substance. So I'm not concerned about health effects of carrageenan, and I do consume products (like soy milk) that contain it."
There's also a significant difference between the type of carrageenan that caused health problems in rats — "degraded carrageenan" — and the type that is used in human foods. Yet even though degraded carrageenan and food-grade carrageenan are different, the harmful effects of degraded carrageenan have been mistakenly associated with food-grade carrageenan. Scientific assessments support the safety of food-grade carrageenan. But just as some people show sensitivity to foods such as beans, dairy, or nuts, some people show sensitivity to carrageenan, and experience gastrointestinal issues when they consume it; for most people, however, it is not a problem.
Carrageenan is difficult to find in stores, but can be ordered online. I order the brand recommended in the book, which is the Kappa Carrageenan from Modernist Pantry. A 2 oz. bag runs around $12, but this will make at least 8 large wheels of cheese, as very little carrageenan is used. A 16 oz. bag is $32, which is very economical if you decide to start making the cheeses on a regular basis.
What kind of soy is safe?
As for soy, while most of the misinformation behind the soy scare has been debunked, we still see a lot of reactionary, unproductive comments from people who insist on linking all soy products to GMO. This simply isn't accurate, and it's hugely unhelpful to animals, because many people who might be open to veganism associate a vegan diet with soy foods. The truth is that many large grocery franchises carry at least one brand of organic, non-GMO soy milk (and tofu), and most natural foods stores carry several varieties. For best results with the cheeses in The Non-Dairy Evolution Cookbook, Chef Conroy recommends using a soy milk without additives, such as Westsoy Unsweetened Organic Soy Milk, which is carried in many stores and can also be ordered online.
For more information on soy, please see Virginia Messina's article "Soy Isoflavones and Estrogen." For a well-researched contextualization of carrageenan with citations, please see "Is Carrageenan Safe?"
To order The Non-Dairy Evolution Cookbook on amazon or directly from the author, please visit the website, The Gentle Chef. For cooking support with the recipes in the Non-Dairy Evolution Cookbook and The Gentle Chef Cookbook, and for general vegan cooking information and tips, please join The Gentle Chef group discussion forum on facebook. You can also follow the facebook page The Gentle Chef.