It is not yet dawn, and two people carrying cameras are walking toward a high chain link fence. They are wearing camouflage, and have just parked a car very deep in the forest. As they get closer to the fence, terrible cries puncture the stillness, like dogs being beaten, crying out from a rain of vicious blows. The two human figures climb the fence. Rows and rows of cages become visible. One of the humans puts her camera to a cage and begins taking photographs. The flash goes off. Sad eyes blink back, full of fear and confusion.
These are not dogs, but foxes; and the anguished cries, not the sound of dogs being beaten, but of beautiful foxes going insane; foxes wild with despair; foxes losing their minds. As the camera comes close, a stunning white fox with intelligent eyes and an air of defeat grunts inquisitively and repeatedly, without malice; he is clearly trying to speak. In another filthy cage, a trembling mother with huge, wet eyes spreads herself across her cowering babies. Another baby, in another cage, lovingly licks his mother's face. They will all be anally electrocuted. They will all die terrified and confused. The camera illuminates one sorrowful scene after another: utter dejection, injury, and indignity, yet, even born in captivity, the eyes of each animal burn with old knowledge of what it means to be free. These animals are incomplete. Only their suffering is complete.
One of the photographers is Jo-Anne McArthur, creator and author of We Animals, and the protagonist of the documentary, The Ghosts in Our Machine, beautifully conceived and directed by Liz Marshall. The film explores the lives of individual animals living within, and rescued from, the mechanized prison of our modern world. Through the heart and lens of acclaimed animal photographer McArthur, we become intimately familiar with an unforgettable cast of animal subjects. Each story and photograph is a window into global animal industries: Food, Fashion, Entertainment and Research. The film asks the question: Are non-human animals property to be owned and used, or are they sentient beings deserving of rights?
As we watch Jo at her computer reviewing some devastating images, she says, with a note of resignation, "I'm not there to liberate them. I'm there to document them. As much as I'd like to liberate them from their cages, I can't, because that's not going to change the system." Hearing her speak, I am reminded of the Buddhist precept which teaches that only through cultivating empathy for "all breathing beings," do we achieve "the total liberation of the mind which is love." In this way, animal liberation is inextricably tied to human liberation; the liberation of human minds from greed, apathy and complacency; liberation from the terrible error in which we are taught that some animals deserve love and compassion, while others deserve violence, enslavement and needless death.
The greatest obstacle that animal rights activists face, and a question we are constantly revisiting, is how to make people care. If there's one thing I've learned during my years as an animal activist, it's that no matter how compelling, reasonable, scientific, or just plain heartbreaking your information about animals may be, just putting it out there is not going to be enough to make everyone care, even if it should be. So how do we get people to care about animals exploited for food, fashion, entertainment, research, and other human ends?
One strategy that animal activists have increasingly begun to make use of is storytelling. Humans evolved as storytelling creatures, and science shows that when we are presented with new information in story form, far more areas of our brain, including those responsible for empathy and compassion, are activated than when the information is conveyed in bullet points, timelines, or impersonal factual prose. So, for example, if I want you to understand and care about the fact that pigs are intelligent and self aware, then, rather than cite the number of cognitive studies in which pigs consistently outperform three year-old children, I ought to tell you the story of Lulu the pig, whose human companion suffered a heart attack and lay immobilized on the floor until Lulu procured help by forcing her 200 pound body through the cat door, and repeatedly lay down in the middle of the road, pretending to be injured. When one driver finally stopped and approached, Lulu jumped up and ran toward the house, making loud distress calls. The man followed the pig to the door, where he heard her guardian crying for help and called an ambulance. Doctors said if he had been fifteen minutes later, the woman would have died.
Jo-Anne writes: "I'm a story-teller by nature, and the camera is a great tool for story-gathering. After a few years of shooting random stories … I learned that I could use this amazing tool, the camera, for social change, and I could also combine my two loves – taking photos, and helping animals – to help make the world a better place." This means that in her photos, Jo-Anne doesn't just document cruelty to animals, she helps viewers connect with the animals by showing them as individuals, with individual faces, bodies, and stories. So we get the story of lab beagles Maggie and Abbey, the former subjects of cruel experiments who were transformed by their adoption into a loving home; the story of Julia the pregnant sow who was beaten and electrocuted by farm workers, then mercifully rescued by Farm Sanctuary just hours before giving birth. And even when we don't get the full story, we connect with the animals as individuals through the powerful personalizing details McArthur carefully emphasizes: the breath-taking eyelashes on a doomed veal calf; the intimate gesture of a spray-painted pig in a slaughter truck resting her head on the back of another pig; the mix of bravery and terror in the eyes of a caged raccoon as she uses her body to cover the babies she is so desperate and helpless to protect.
In the film, Jo-Anne says, "When I started photography, the success came from creating a good artistic image. That is still important, but not as important as creating a connection between the nonhuman animal in the picture, and the humans." Creating connection is essentially the strategy of the film as well: get people to care about animal rights by getting them to care about, and connect with, an animal rights activist. Tell the animals' stories by telling the story of Jo-Anne McArthur. It's a brilliant idea, for Jo possesses many of the attributes of a lovable Hollywood heroine: young, beautiful, fearless in her bravery, a quirky, unstoppable rebel who is often smiling in spite of the serious emotional toll of her work. After a marketing meeting to discuss getting her images into mainstream magazines, one of the agents looks up from a set of harrowing photos and asks Jo how well she sleeps.
Matter-of-factly, almost nonchalantly, and without a trace of self-pity, Jo says, "Yeah. I have PTSD. I'm working on that." We cannot help but root for her, and caring about her story means caring about the stories she is trying to tell, and understanding why they matter. By giving us a protagonist to care about, the film provides an extraordinary opportunity for people to see the world from the perspective of an animal rights activist, to meaningfully connect with that perspective, to recognize their own values and compassion in her world view, and, quite possibly, to feel compelled to make different choices as a result.
I'll go ahead and say: there was never a moment, watching this film, that tears weren't streaming down my face. But some of them were tears of joy. While there are deeply heart-rending scenes in The Ghosts, their difficulty is mitigated by the brilliant pacing of the film, and the merciful relief provided by strategic interjection of footage from Jo's visits to Farm Sanctuary, where she goes to recharge, and to remind herself and others of the good in the world.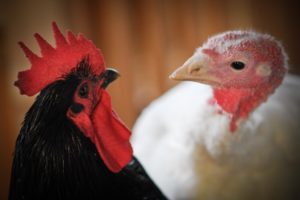 There, at her second home and haven, we meet formerly abused farmed animals who are now free to live out their lives in safety and peace, to express their natural instincts and unique personalities, to form lasting friendships, and to be valued as individuals with their own inherent worth. The cinematography that captures these visits is as gorgeous as the scenery, providing an arresting visual display at every turn. In one particularly nuanced frame, beams of sunlight pour through the holes in a sheep's punctured ears where, once, plastic number tags obscenely signaled the animal's status as a mere commodity.
Some of the tears that I cried were for myself. I cried because I feel destroyed by the word "slaughterhouse." I feel destroyed every time I see it, and every time I hear it, and every time I write it, and every time I think it — that such a thing exists, that such a word exists. I cried for all the sorrow and anger that I carry with me, always, at having to live in a world that inflicts so much unnecessary suffering and death on animals. And I cried for Jo, whom I have never met; I cried for how brave she is, and for all that she has witnessed, and because I thought, she will probably never know a single moment of uncorrupted joy in her life, ever.
I cried for The Ghosts.
I cried myself to sleep, and then I thought, the next morning, about how powerfully the film had affected me; how it had broken more of my heart than I thought there was left to break. And I knew that if I had watched this film as a non-vegan, it would have changed everything for me; that I could not have seen the world the same. That's the kind of film this is. Every dot is connected, and you cannot come away unchanged.
See this film. Share this film. Teach it. Ask everyone you know to watch this film for your birthday. And remember its message: whatever your gifts are, you can use them to make a difference. Animal liberation is human liberation. Be fearless for animals, and know that you are not alone in your struggle. May all beings be happy and safe.
---
The Ghosts In Our Machine is now available in the U.S. on iTunes, Amazon, and Google play, and through cable TV video-on-demand. Watch the trailer here. For more viewing options click here. 
We Animals is an online archive of thousands of photographs by Jo-Anne McArthur, exploring our relationship to animals around the globe. Please visit the website and share the powerful stories and images.