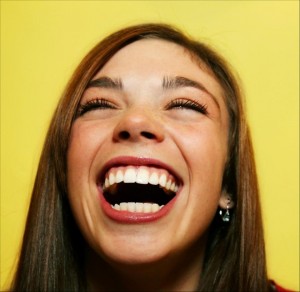 One of the most common justifications for eating animals that vegans encounter is, "If I wasn't meant to eat meat, then I wouldn't have these canine teeth!" It's a knee-jerk defense that's often made after a meat-eater has been confronted with information about the routine cruelties of animal farming, or with the fact that humans have no biological need to consume meat, milk or eggs.
But there are several serious problems with the "canine teeth" argument, the most glaring one being the premise that "the presence of canine teeth = meant to eat meat." In truth, with the exception of rodents, rabbits, and pikas, nearly all mammals have canine teeth. In fact, several herbivores and primary plant-eaters have ferocious canine teeth, and, as you'll see in the gallery below, the largest canine teeth of any land animal belong to a true herbivore.
Another problem with the "canine teeth" argument is the idea that, just because we have a physical attribute that enables us to do something harmful, we are morally justified to perform that activity unnecessarily and whenever we want. Humans are physically capable of inflicting all kinds of violence ("If I wasn't meant to beat people up, I wouldn't have these big fists!), but our capacity to harm others has nothing to do with whether or not we are right to harm others. Indeed, most people would say it is wrong to cause harm when you can just as easily avoid doing so. And we can easily (and drastically) reduce the needless harm and suffering we cause to other animals simply by making different choices at the grocery store.
Scroll down for more compelling reasons why our canine teeth don't make us meat-eaters, and check out these surprising images of some stunningly fang-tastic herbivores.
Reason #1 Your Canine Teeth Don't Make You A Meat-Eater: The Hippo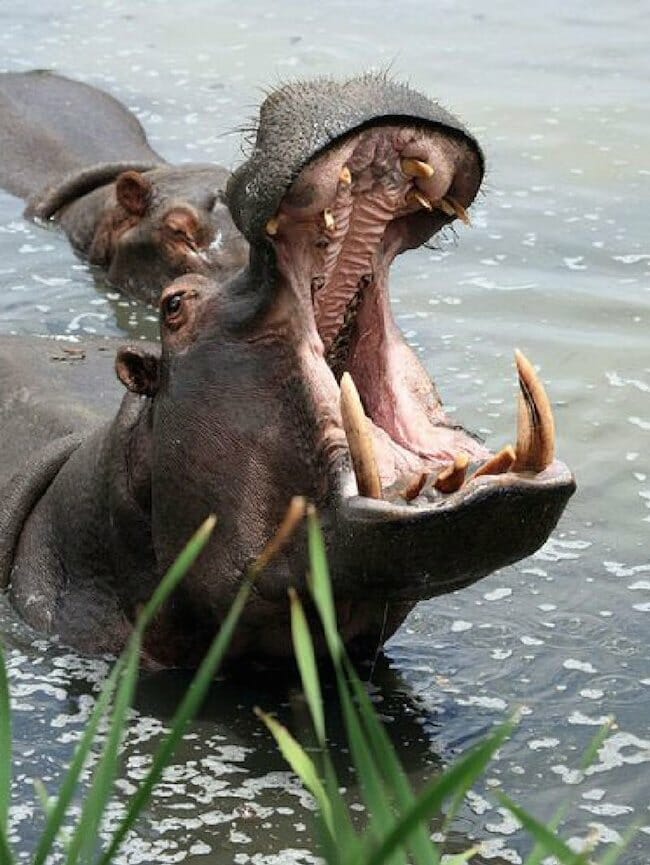 Not only do most mammals, including herbivores, have canine teeth; but the largest canine teeth of any land mammal belong to a true herbivore: the hippopotamus. Hippos are extremely territorial and aggressive; their sword-like canines, which can reach a terrifying sixteen inches in length, are used for combat and play no role in feeding. The hippo's diet consists of grass, on which it grazes at dusk.
Reason #2 Your Canine Teeth Don't Make You A Meat-Eater: The Gorilla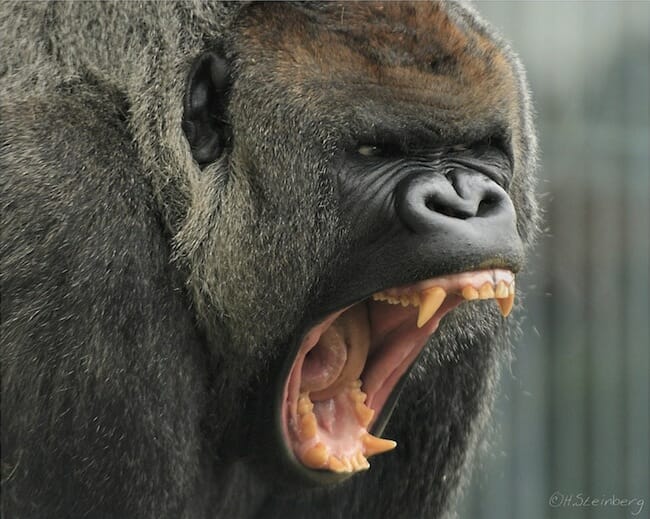 Gorillas are almost exclusively herbivorous. Mountain gorillas prefer a diet of foliage — leaves, stems, pith, and shoots — and a small amount of fruit. Lowland gorillas also eat leaves and pith, but they eat more fruits, and, occasionally, tiny ants or termites. Gorillas' giant canines have nothing to do with eating meat.
Reason #3 Your Canine Teeth Don't Make You A Meat-Eater: The Saber-Toothed Deer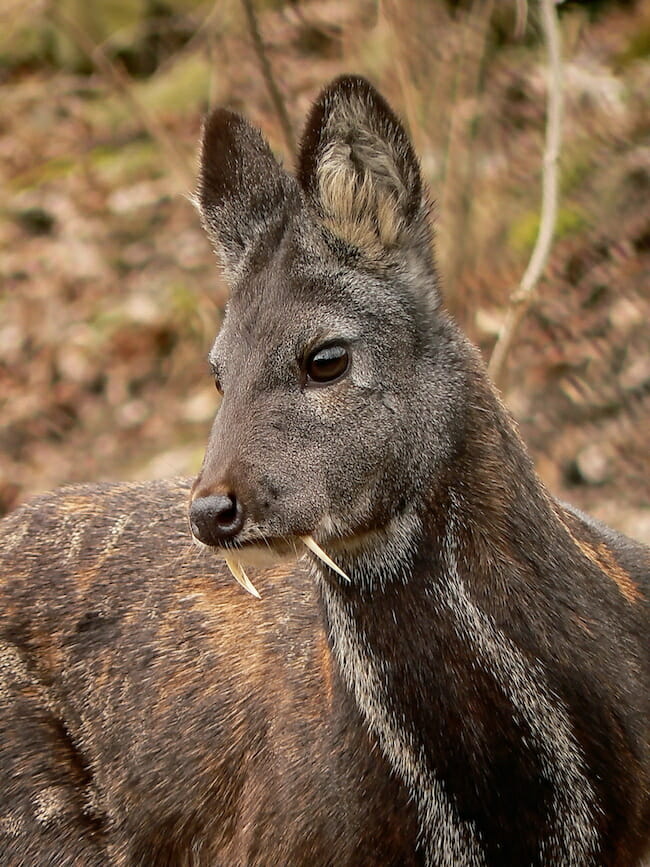 Say hello to my little friend: the saber-toothed deer. You read that right — it's not photoshop, it's just a tiny deer with giant fangs! Musk deer, as they're officially known, are herbivores who live in the forested mountains of Southern Asia. They're around 2 feet tall, weigh between 15 and 37 pounds, and the males' elongated canine teeth form saber-like tusks which they use in territorial disputes, or when competing for mates. So what kind of food do musk deer tear into with those vicious canines? The menu is a virtual gore fest: leaves, flowers, grasses, mosses and lichens.
Reason #4 Your Canine Teeth Don't Make You A Meat-Eater: The Gelada Baboon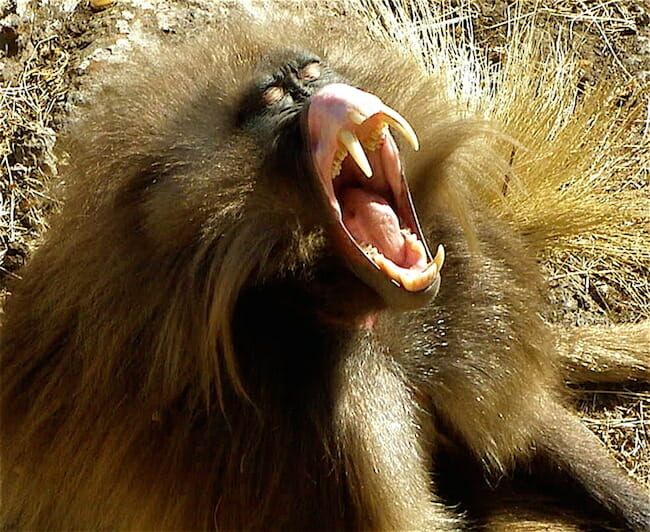 Geladas are the only primates who primarily eat grass – grass blades make up to 90% of their diet. The rest consists of flowers, rhizomes, roots, herbs, small plants, fruits, creepers, bushes and thistles. Insects may be eaten, but only rarely. Geladas use their sharp, two-inch canines to attack rivals or potential predators.
Reason #5 Your Canine Teeth Don't Make You A Meat-Eater: Camel Fangs!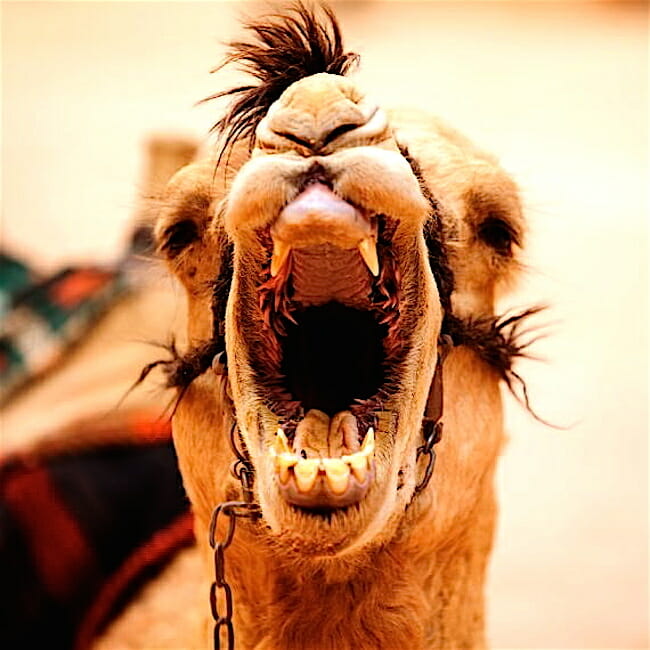 Camels are herbivores with an average lifespan of 40 years. They eat foliage, dry grasses and desert vegetation — mostly thorny plants. Sharp canine teeth in both the upper and lower jaws enable them to crush woody plants for food.
Reason #6 Your Canine Teeth Don't Make You A Meat-Eater: The Javelina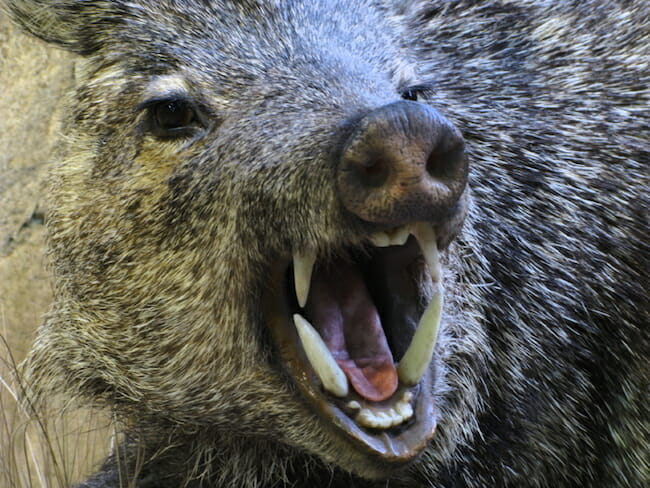 The Javelina, or peccary, is a furry cousin of the pig, found in the deserts of southwestern U.S., and in Central and South America. Primarily herbivorous, javelina eat a variety of native plant foods including agave, mesquite beans, prickly pear, roots, tubers, nuts, and other fruits and vegetation. Their spear-like canine teeth are used for self defense, and to shred cactus pads, a primary source of nourishment. Thanks, little fur pig, for demonstrating once again that plenty of primary plant-eaters have canine teeth; even huge, fierce stabby ones.
Reason #7 Your Canine Teeth Don't Make You A Meat-Eater: Comparative Anatomy
In her new book, Mind If I Order The Cheeseburger?, Sherry F. Colb discusses the comparative anatomy of carnivores, omnivores, and herbivores. "[M]ammalian carnivores and omnivores share a number of physical attributes that make them well suited for killing and tearing apart their prey. They have a wide mouth opening, relative to head size; a simple jaw joint that operates as a stable hinge for effective slicing but which is ill-suited to side-to-side motion; and dagger-like teeth spaced apart to avoid trapping stringy debris. They also have sharp claws. (2) The mammalian carnivores and omnivores additionally have huge stomachs that enable gorging, an important capacity in animals who tend to average only about one kill per week. (3) These animals also have a very low gastric pH (which means their stomachs are very acidic), enabling the breakdown of highly concentrated protein as well as the killing of dangerous bacteria that typically colonize decaying flesh. (4)
…Each of these traits enables the lion or bear to use her body to kill prey. Herbivorous animals, by contrast, have fleshy lips, a small mouth opening, a thick and muscular tongue, and a far less stable, mobile jaw joint that facilitates chewing, crushing, and grinding. Herbivores also generally lack sharp claws. (14) These qualities are well-adapted to the eating of plants, which provide nutrients when their cell walls are broken, a process that requires crushing food with side-to-side motion rather than simply swallowing it in large chunks the way that a carnivore or omnivore swallows flesh.
Herbivores have digestive systems in which the stomach is not nearly as spacious as the carnivore's or omnivore's, a feature that is suitable for the more regular eating of smaller portions permitted with a diet of plants (which stay in place and are therefore much easier to chase down), rather than the sporadic gorging of a predator on his prey. (15) The herbivore's stomach also has a higher pH (which means that it is less acidic) than the carnivore's or omnivore's, perhaps in part because plants ordinarily do not carry the dangerous bacteria associated with rotting flesh. The small intestines of herbivores are quite long and permit the time-consuming and complex breakdown of the carbohydrates present in plants. In virtually every respect, the human anatomy resembles that of herbivorous animals (such as the gorilla and the elephant) more than that of carnivorous and omnivorous species. (16) Our mouths' openings are small; our teeth are not extremely sharp (even our "canines"); and our lips and tongues are muscular. Our jaws are not very stable (and would therefore be easy to dislocate in a battle with prey), but they are quite mobile and allow the side-to-side motion that facilitates the crushing and grinding of plants.
Our stomachs are only moderately acidic, a fact that becomes salient around Thanksgiving, when even slightly undercooked dinners of turkey flesh result in many cases of food poisoning from the illness-causing bacteria that easily survive in our stomachs. (17) Like herbivores and unlike carnivores and omnivores as well, we have long small intestines, enabling the digestion of complex carbohydrates, a process that begins in our mouths, where we, like the committed herbivores, have carbohydrate-digesting enzymes as well. (18)
Does any of this mean that people are incapable of eating and digesting animal products? Of course not. With weapons to kill animals, we do not need dagger teeth, and with fire to cook flesh, we can usually avoid the pitfalls of a stomach that is ill-equipped to kill the pathogens that populate raw flesh.
Despite our flexibility in accommodating animal-based foods, however, it nonetheless remains clear that we are anatomically well suited to plant-based eating…[A]nimal-based foods are unnecessary for us, and they carry significant costs and risks. While it is beneficial to have complex plant carbohydrates slowly make their way through our very lengthy small intestines, the same cannot be said for having meat rotting in our intestines for extended periods of time. (19)
However much people may enjoy eating animal products, then, nature does not unambiguously commit us to, or reward us with good health for, consuming them. Our nature is quite different from that of lions, and our choices about what we eat are accordingly far more flexible and correspondingly susceptible to moral scrutiny. Where we have another choice—indeed a more healthful choice—for which our anatomy and physiology amply equip us, we cannot simply invoke nature to justify what we do. It is true that we could not reasonably accuse lions of acting immorally in consuming animals. But simply put, we are not lions."
See the full excerpt (with citations) from which this text is taken, at Sherry Colb's Free from Harm article, Two Arguments For Eating Animals: It's Natural and Animals Do It Too.
Reason #8 Your Canine Teeth Don't Make You A Meat-Eater: Science Confirms Humans Have No Biological Requirement For Animal Products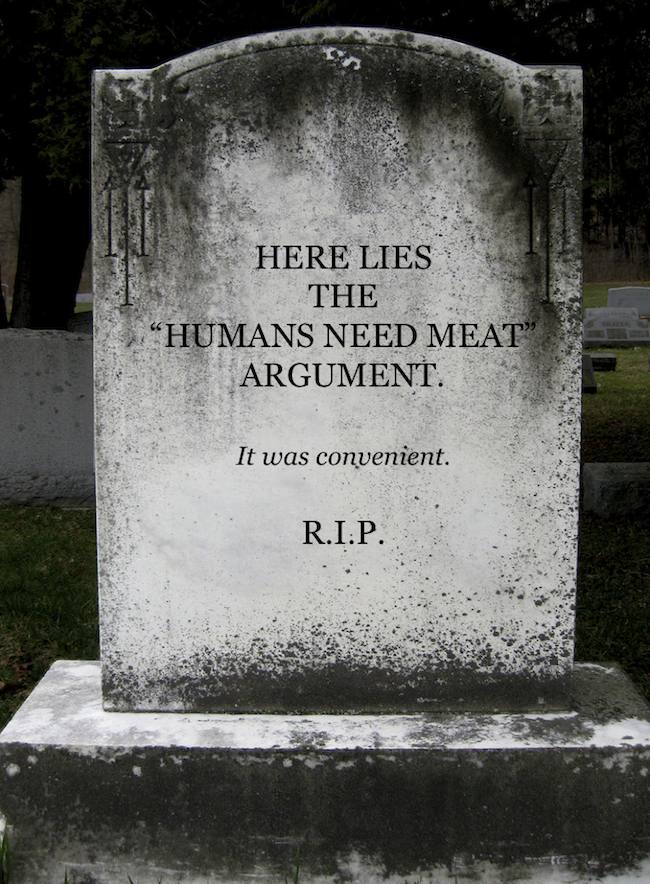 Leading government and public health organizations worldwide now acknowledge that a vegan diet is not only a viable option for people of any age, but that eating plant foods instead of animal-based foods can confer significant health benefits, including reduction in incidence of obesity, diabetes, high blood pressure, high cholesterol, heart attack, stroke, and some types of cancer.
The American Academy of Nutrition & Dietetics, the U.S.'s oldest, largest and foremost authority on diet and nutrition, also recognizes that humans have no inherent biological requirement for animals products: "It is the position of the American Dietetic Association that appropriately planned vegetarian diets, including total vegetarian or vegan diets, are healthful, nutritionally adequate, and may provide health benefits in the prevention and treatment of certain diseases. Well-planned vegetarian diets are appropriate for individuals during all stages of the life cycle, including pregnancy, lactation, infancy, childhood, and adolescence, and for athletes." For more information, see Catching Up With Science: Burying the "Humans Need Meat" Argument.
Reason #9 Your Canine Teeth Don't Make You A Meat-Eater: You Have a Choice
Many people insist that eating animals is "natural" — and therefore morally neutral — because other animals eat animals. But it's important to recognize that, with a few exceptions, when humans kill other animals for food, we're not doing what animals do in nature. Humans have no biological need to consume meat or any animal products to be healthy. When animals kill other animals for food, they do as they must, in order to survive; they have no choice in the matter. Many humans, on the other hand, do have a choice, and when people with ample access to plant-based foods choose to consume animals anyway — because they can, or because they like the taste — they are not killing from necessity, as animals (and some humans in crisis or subsistence situations) do. Whether we're talking about a lion taking down a water buffalo, or a human in some remote or impoverished location with no alternative to eating animals: these are acts of survival, and do not equate to, nor justify, the unnecessary exploitation and killing of animals for profit and pleasure.
Farmed animals are individuals with distinct personalities and emotions, just like our own cats and dogs. They feel affection, they form deep friendships, they long to be safe and happy, and to be free from fear and pain. Most of all, they share in common with us the desire to go on living. When we have access to plant-based foods, and understand that we have no need to consume animal products, then the question of eating animals really comes down to this basic question: when able to freely choose, would you rather cause needless harm and suffering, or refrain from doing so?
---
Please learn more about the harmful impacts of animal agriculture to farmed animals, wildlife animals, human health, global hunger, and the environment at our Why Vegan? page.