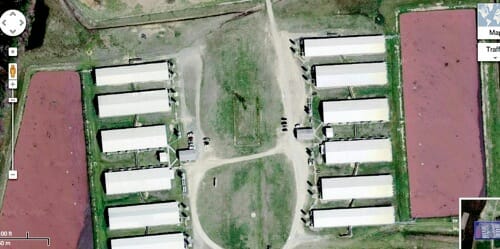 Agribusiness insists that manure is necessary for commercial farming and animal products are essential to our health. It's a case of the fox, not just minding the hen house, but also trying to teach us something contrary to biology 101 where we learned that only true carnivores require the flesh of animals for health and survival. But what to make of their claim that manure is essential for fertilizing soil? McWilliams points to the veganic farming movement as the signs of a future of farming without animal exploitation.

"Let us be clear: Truly sustainable agriculture and food production is dependent on animals, not only for the nourishment of their meat and milk, but also for the fertility of their manure, essential to the production of the fruits, vegetables, and cereal crops upon which all of us depend."
— Andrea Stannard, director of Rural Vermont Board of Directors, writing in The Rutland Herald, November 21, 2012.
Let us be clear: Andrea Stannard is wrong. However, in a move that I'm coming to realize is endemic to the lexicon of Agrispeak, supporters of an animal exploitation-based approach to growing food will say something so often, and with such conviction, that it somehow starts to have a ring of truth. It's a trick, really. You take an idea that's wide open for fruitful interpretation—"truly sustainable" in Stannard's case—and you affix it with a technical definition—"dependent on animals" for example—and the concept is quietly removed from the table, fixed, and put in the service of an interest group. Typically this interest group will assume the position of a do-gooder reformer when all it has really done is stolen language to manufacture consent in its own sordid little power game.
In any case, proof that Stannard is wrong is all around her. If she doesn't care to look, I hope those who think what she says about animals and sustainability is true will.
Unexpected Farm, Watkins Glen, New York. Farmers Bill and Linda have 65 acres of land in Watkin's Glen, New York. Most of the land is uncultivated, leaving natural spaces and habitats for wildlife. They farm about 3 acres of the land, and have used veganic practices since they began farming in 2001.
Hesperides Organica, Warwick, New York. Hesperides Organica is located in the town of Warwick, New York, about 1 ½ hours northwest of New York City, and is run by farmer Lisa. The farm is located in the Black Dirt region of Orange County, an area with extremely fertile soil.
Huguenot Street Farm, New Paltz, New York. Farmers Ron and Kathryn have a model veganic farm on 77 acres in New Paltz, New York. Growing over 125 varieties of vegetables, fruits, and flowers, including heirloom varieties, Huguenot Street Farm runs a 21-week CSA for 200 families in the region.
For more information on vegan agriculture, check out the Veganic Agricultural Network.