The unisex Free from Harm t-shirt prominently features our full-color Free from Harm logo and web address on the front. The back of the t-shirt displays the beautiful and thought-provoking observation from author Leo Tolstoy: "As long as there are slaughterhouses, there will be battlefields."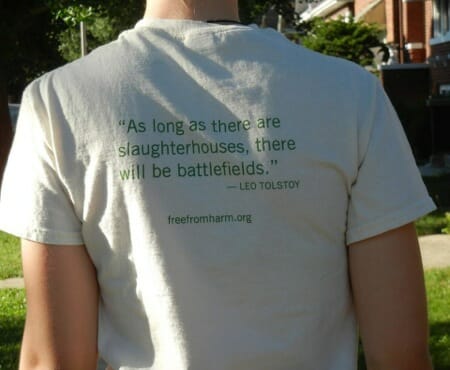 This powerful message t-shirt is an effortless way to advocate while out in public, whether at the gym, grocery store, a local bar or on public transportation. It was recently a great conversation starter for us at the airport!
Free From Harm t-shirts are made by Gildan from a heavyweight 5.3 oz cotton in a natural color and are available in small, medium, large and extra large (shirts tend to run a bit large). At this time we are only shipping in the U.S. but hope to ship internationally in the near future. Thanks so much for your support!
Currently available in the US only at this time!
Price: $20.00 each