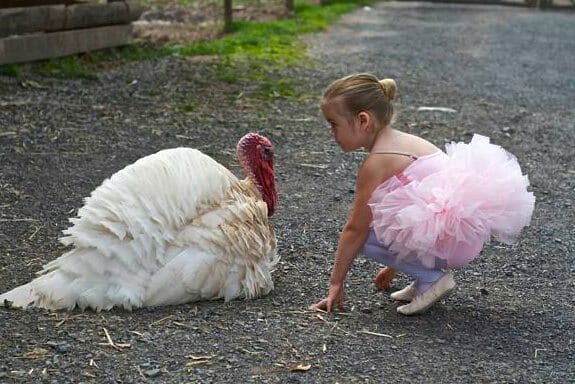 Nearly 46 million turkeys are killed for Thanksgiving every year in the U.S. alone. Most are raised on factory farms, where they endure unimaginable suffering. But even turkeys who spend their unnaturally brief lives on so-called "humane," "pastured" turkey farms are subjected to the most horrific deaths most people cannot even bear to watch.
It doesn't have to be this way— delicious plant-based alternatives abound. From frozen faux-turkeys that taste like the real thing, to mouth-watering, protein-packed grain roasts, to decadent, delectable vegetable spreads like Roasted Hasselback Butternut Squash (say that five times fast!)— there are tons of tantalizing Turkey Alternatives that can take center stage at any holiday table.
Whether you're looking for store-bought, order-online, or make-your-own options, it's easy and delicious to veganize your favorite holiday main dishes. Here are just a few:
In Store or Order Online:
Trader Joe's Breaded Turkey-Less Roast
This is my favorite of all of the turkey alternatives I have tried. It's delicious, and a bargain! Here's how Trader Joe's describes it: "A few years back, we teamed up with innovators in healthy and convenient, plant-based foods to create a Turkey-less Stuffed Roast. Made with seasoned soy protein and organic ancient grain flour, it was touted for its remarkable texture and flavor. But rest on our roasts, we do not. Driven to make this main course as delicious and desirable as possible, we've punched up the wild rice stuffing with bursts of cranberries and coated the roast in crispy breading, seasoned with herbs and red pepper flakes. Now Breaded, our Turkey-less Stuffed Roast with Gravy has never tasted or looked better."
Field Roast Celebration Roast
From the website: "Whether a special occasion or a simple dinner for two; our Celebration Roast is the ultimate in vegetarian sophistication. We start with a rich and savory sausage-style stuffing made from Field Roast grain meat, fresh cut butternut squash, mushrooms and granny smith apples seasoned with a blend of rosemary, thyme and sage. We then surround the stuffing with our most luxuriant grain meat seasoned with rubbed sage, garlic and lemon juice. As a centerpiece, appetizer or sliced in a sandwich, our Celebration Roast is perfect for any occasion."
The Celebration Roast comes in two versions, the 1 lb. roast above, and the 2 lb. "all the trimmings" version below:

"Delightfully seasoned with rubbed sage, garlic and lemon juice, this evolution of our classic Celebration Roast 2 lb features a traditional bread stuffing made with fresh onions, celery, cranberries and butternut squash. As a special accompaniment to the roast, we offer you the perfect portion of our Porcini Mushroom Gravy. Simmered on the stovetop, the gravy combines the dark, rich, earthy flavor of porcini mushrooms with diced shiitakes to create the ultimate vegan gravy."
Gardein Holiday Roast
The wildly popular plant-based meats company, Gardein, offers a knock-your-socks-off-delicious vegan Holiday Roast. Look for it in the frozen section of your grocery store. Many retailers like Target and Wal-Mart carry Gardein products as well. You can also ask your store to order the product for you. Visit the Gardein site to find out which stores nearest you carry their foods.
Tofurky Roast

"The Tofurky Roast is a pre-cooked vegetarian feast designed to be the delicious centerpiece of your holiday or everyday meal. Made from a revolutionary tofu-wheat protein blend, our famous Tofurky Roast is known for its incredible, turkey-like texture and flavor. Stuffed with wild rice and whole wheat bread crumb stuffing, this roast carves and cuts just like turkey but without the bones. Made with organic non-genetically engineered soybeans." Order online or find a store near you.
No Evil Foods "The Pardon"
Now shipping nationwide in the U.S., "The Pardon," from plant-based meats company No Evil Foods in Asheville, NC, is a savory, hand-crafted artisanal plant-based roast. Once baked, the herb-rubbed exterior takes on a crispy, golden-brown sheen that breaks through to tender, succulent, juicy plant meat. This protein-packed roast carves magnificently, and the combination of ingredients and technique allow The Pardon to uniquely recreate the experience of eating a traditional turkey dinner, without any of the cruelty. The Pardon serves eight and runs $25. Pre-order by Nov. 14th for Nov. 23rd delivery.
Recipes:
Seitan Roulade with Sage and Sweet Onion Stuffing
from Olives for Dinner

From the website: "These easy, faux-meaty and versatile seitan roulades are made from combining vital wheat gluten with some simple stock to produce a dough which can be flattened out, filled with any kind of sweet or savory components and then rolled up and baked. There are literally hundreds of ways to fill a seitan roulade, but my favorite is using a stuffing laced with plenty of rubbed sage, vegetable broth, Earth Balance (or other vegan butter) and sweet onion for a warm and traditional holiday feel." Recipe.
The Gentle Chef's Succulent Seitan Turk'y Roast
from The Gentle Chef
Genius chef extraordinaire Skye-Michael Conroy, a.k.a. The Gentle Chef, has pretty much veganized every meat, egg, and cheese dish on the planet in an effort to make eating vegan as easy and delicious as possible. His plant-based meat recipes are made from seitan, and include easy, step-by-step instructions for all the traditional holiday meat centerpieces, including vegan versions of Baked Ham, Herb Roasted Chicken, and Carving Board Succulent Roast Turk'y. In an effort to inspire more people to try a vegan holiday, the Gentle Chef has just made his Holiday Cookbook available as a free download, which includes a recipe for his famous vegan turkey roast (pictured above). The description from the cookbook follows below:
"Succulent Roast Turk'y is created from a special blend of wheat protein, soy protein from tofu and select seasonings. The roast is prebaked until partially cooked, which seals in the ingredients and sets the texture. The roast will also create its own "skin" while prebaking. The partially cooked roast is then simmered in a seasoned broth to infuse the roast with additional flavor and ensure that the roast remains moist and tender."
Maple Pecan Hasselback Butternut Squash
from Seasons and Suppers
Maple Pecan Hasselback Butternut Squash is a delicious way to enjoy butternut squash, and makes for a gorgeous holiday meal centerpiece – cut hasselback style and roasted with maple syrup and vegan butter, flavored with thyme and topped with chopped pecans.
Seitan Roast Stuffed With Shiitakes And Leeks
from Isa Chandra

This timeless cult favorite comes from chef Isa Chandra, who writes: "After about 20 years and twice as many tries I've got a fabulous centerpiece stuffed roast that I'm proud to show off to the neighbors. Succulent seitan stuffed with herbed meaty shiitakes and leeks. The seitan is mixed with pureed pinto beans to give it great, juicy texture and even a hint of pink color… The stuffing is coated with bread crumbs, which keep it perfectly packed into the roast when you slice it, instead of falling out all over the place. It all comes together when baked in a familiar tinfoil wrapping."
Shallot and Shiitake Seitan Wellington
from Olives for Dinner

From the website: "This seitan is steamed then baked, which gives it a wonderfully unique texture and is perfectly complimented by tangy and succulent shiitake and shallots within and around it. My favorite part is the buttery and flaky pastry outside, which tastes fabulous with the other components."
Mushroom Lentil Wellington
from Vegan Richa
To create this savory, bursting with flavor vegan Wellington, onion, garlic, and walnuts are toasted on a skillet while mushrooms are cooked down, then combined with lentils, veggies, herbs and flavoring. The mixture is then packed into a crisp, buttery puff pastry and baked till golden. Slice and serve with gravy , mashed potatoes, side salad.
Romesco Roasted Whole Cauliflower With Herbed Tahini Cream
from The First Mess

"I took a pretty orange cauliflower (which helped emphasize the deep red romesco a bit more–we eat with our eyes first!), steamed it to ensure even tenderness, slathered it in the romesco (probably my favourite sauce of all time), and then roasted it until it got a wee little crust on the outside. Then, we cover the whole thing in a pretty green flecked tahini sauce with lots of lemon juice. This combination is SO flavourful! This dish hinges on the romesco and tahini sauces, which can both be made quickly in the food processor up to 5 days in advance. Then, all you have to do on the day of the big meal is steam and roast your cauliflower, set up your serving platter, and get your garnishes out. It's beautiful, simple, just the right amount of festive, and just incredibly delicious." Recipe here.
Stuffed Roasted Butternut Squash
from It Doesn't Taste Like Chicken
Maple-Apple Cider Tofu With Stuffing and Apple Cranberry Chutney
from The Vegan Dad
Savory Sage, Rosemary & Thyme Roasted Cauliflower
from Delish.com
Get the recipe here.
---
Want more reasons to enjoy a turkey-free holiday? Check out our popular factsheet, 12 Reasons You May Never Want to Eat Turkeys Again. You'll be surprised by what you didn't know about these amazing birds, and about their tragic lives trapped inside the "meat" industry.