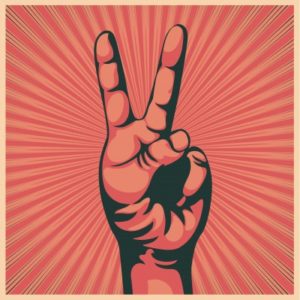 Being dismissed as an extremist isn't the worst thing in the world. But as a new animal activist, I used to unconsciously dread this accusation. I carefully worded my responses to avoid it at all costs. No more. Now liberated from fear of being labeled extreme, I wholeheartedly encourage others to abandon their fear.
Why do I think it is so important to do this? Well, for starters, overcoming fear of being called an extremist is not only freeing, but character-building. It promotes our self-esteem, our feeling of moral worth — qualities that our critics want to crush.
Indeed, they hope that upon being tagged an extremist, we will run away with tails tucked. Then, they hope, we'll come crawling back, badly bruised, and cave in to their attacks, softening our stance enough to make such innocuous statements as, "Well, I guess it's okay to raise 'food' animals 'humanely.'" The trouble is, those activists who compromise their core beliefs never really believe their softened stance. In fact, they often come to hate themselves for selling out the animals.
Smearing courageous change-makers is a centuries-old defensive tactic employed by those who feel threatened by those very changes. Every great movement has begun with a group of restless activists — brave pioneers who are marginalized by the status quo. But these progressive thinkers and actors have always persevered, and ultimately prevailed. Their campaigns for justice have gone mainstream as their ideas have slowly won acceptance. As social psychologist Melanie Joy recently noted, "[D]efenses evolve and intensify as a movement evolves and intensifies, and they are a sign of the movement's success, not its failure."
Now I'm not suggesting that we act or speak in an "extreme" manner. Quite the contrary. I'm saying, "Keep your cool. Maintain your professional demeanor. Provide credible sources. But do not retreat from the ethical position that you know in your heart and in your mind to be right."
We animal activists have a solid foundation underlying our cause of justice for nonhumans. After all, most of the world already believes in the principle of justice for humans. The vast majority of people don't make exceptions based on color of skin, country of origin, gender, physical handicaps, and the like. Even if they don't particularly like some humans, or even if they think of some humans as less intelligent than others, people still believe categorically in justice for all Homo sapiens.
So the notion that other species, too, are deserving of respect and justice is not far-fetched, let alone extreme. It's simply a logical extension of the principle of equal consideration that most of us have come to accept. This principle has been expressed in texts as ancient as human civilization itself. It puts us in good company with the likes of Patanjali and Pythagoras, Leonardo and Galileo and Gandhi, Albert Schweitzer and Albert Einstein, and the American hero honored this month for his "extreme" love and "extreme" justice: Martin Luther King, Jr.
As we can see, then, justice for animals is common sense. And veganism, an aspect of justice for animals, is common sense. Justice cannot be served by eating animals, a practice that causes 99% of the human-induced animal suffering.
Could it be that those who resist this common sense are really the ones who are supporting a system of thought that is "extreme" and contrary to our core values of kindness and respect? That is, extremely unjust? extremely unkind? Extremely indifferent? Extremely negligent to humanity's moral obligation to animals?
Yes. And our job is to make these "extremists" understand, in their hearts and their minds, why animals matter.