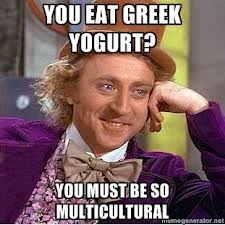 When we think of Greek yogurt, we generally don't think about environmental devastation. However, according to a recent report  in ModernFarmer.com, that's about to change.  Confirming the inherent waste involved in the conversion of animal parts and secretions into animal products, analysts have revealed that it takes three or four ounces of milk to make an ounce of Greek yogurt. The rest of the milk gets converted into acidic whey. This product is so toxic that it's classified as an industrial waste.
Critics are starting to discuss the implications of what they are calling "acid runoff," a swill of whey that can, like runoff nitrogen from fertilizer, transform aquatic ecosystems into dead zones. In the very recent past, spills of whey from regular cheese production have "killed tens of thousands of fish around the country." The Northeast part of the United States alone produces about 150 million gallons of acidic whey a year, with New York leading the pack. Most of it gets churned into livestock feed and manure compost, a case of recycling that links your morning bite of yogurt to industrial beef production.
Driving the production of acidic whey is consumer demand. People have gone half crazy over the thick creaminess of Greek Yogurt over the past few years.  Once a small niche endeavor, Greek yogurt production is now a $2 billion a year industry. WebMD recently included Greek Yogurt as one of the "6 best foods you're not eating." Men's Health promotes it as an ideal source of protein. Beware, however, when the protein myth combines with the need to not only dispose of, but profit from, an industrial waste. To wit: the cutting edge of acidic whey recycling is now to extract protein from the toxin and use it in baby formula. No way!
Learn more at our Dairy Factsheet.